There Are No Jewish Cowboys
I love westerns.  When I was a kid, that was all that was on television.  Westerns!
My Grandfather and I used to watch westerns together all the time.  I loved my Grandfather, my mother's father.  He passed away when I was eleven.  That was a time when I really could have benefitted from him being around.  But such is life.  Grandpa took me to see my first western on the big screen.  I was seven or eight and we went to see "Rio Bravo" at the Vaughn Theatre in Toronto.  A John Wayne western with Ricky Nelson, Ward Bond, Walter Brennan, Angie Dickenson and Dean Martin as Dude, a drunken deputy that was trying to get sober.   And with all the time we spent sitting watching and cheering those western, horse operas, shootem ups when I was a kid I had the realization of this one important fact…there are no Jewish cowboys.  There was never a synagogue under siege that John Wayne had to rescue, round up a posse and "save the Torah".   I never saw an episode of the Lone Ranger when the masked man looked down on some travelers and said "Tonto who are they?"
"Them Jews Kemosabe, you think we should help them?"
"I don't think so Tonto, I might be a masked man that wears pastels and hangs out with an Indian, but add the Jews to that mix and I might really be in trouble."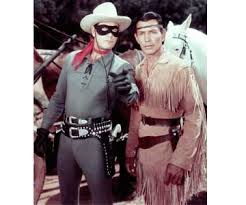 The Jews weren't on the Ponderosa with Little Joe and Hoss, Jews didn't carry around Paladin's card of "Have Gun Will Travel", Boot Hill's graves never bore a Star of David and every bar that Maverick gambled in was restricted.  Yet my grandfather loved westerns and so did I.   And by a funny twist of fate my grandfather's son, my uncle Albert Zlatkis (or Ab as I called him), spent over half his life in Houston Texas.  Home of real cowboys, Texas rangers that wore badges and Beef "it's what's for dinner".
My uncle is Albert Zlatkis.  He was famous.  He was a scientist not a cowboy but he was famous.  He helped develop Gas Chromatography.  But bigger than that he worked to bring scientist from all over the world together to share their breakthroughs with Gas Chromatography.  They were called "The Zlatkis Meetings".  He did that for over 20 years and was given awards for the work he did.  He started out as out of work chemist from Toronto whose friend informed him that they needed research scientists at Shell Oil in Houston Texas.  Later he was then approached by the University of Houston and given a fellowship in the Chemistry Department.
My uncle is important to me for numerous reasons.  I didn't have a lot of men who showed up in my life in a positive way.   I have a lot of stories.  I am only telling one.   He was my gateway Jew. The original corned beef Jew.  He was the man who taught me about all things Jewish culturally.  Mostly food, humor and music.  He used to walk around singing, "di di di di,".  I thought he had forgotten the words to some lame Yiddish song.  It wasn't until years later when I came to Bet Alef Synagogue that I was informed that melody was a nigun, a melody with no words.  After that moment at any service I am at where they start singing a nigun, a big smile appears on my face and I remember Uncle Ab singing a song with no words.
He lived in Houston but travel quite intensively for his work.  I visited my Grandmother every summer in Toronto.  If Ab was in town he would pick me up at the airport.  We would head immediately to Mo Panzers deli for corned beef and dilled cucumbers, pickles, kishka with gravy and fresh rye bread.  He would have pastrami and I would have corned beef.    When I hit my bottom with drugs and alcohol it was my uncle who sent me a ticket to Houston so I could be supported by family.  That was January of 1989 and I am forever grateful to my uncle and his family for their support, then and now. My uncle passed away in 1998.  My last memory of my uncle is being in his beloved Houston driving to Flying Pizza and laughing.
This is one of my favorite stories of hanging out with my uncle.  When I was in my early twenties I was invited to Houston because my cousin Debbie was getting married.   Much had happened in Houston in the twelve years since I had last visited.   The wedding was during the summer when I was staying with my grandmother in Toronto.   Aside from my clothes, my suitcase was packed with Health Bread bagels and Pearl's salamis, which was the usual way to pack for a flight from Toronto to Houston.
Houston had something new.   They had a deli.  My uncle took me there directly after I landed at Hobby Airport.  I had an actual corned beef on rye with some white goop on the side of my plate.  "What's that?" I asked horrified.  "Grits" responded my uncle, "Hominy Grits, they put it on everything here, just think of it as parsley and don't eat it."
I remember the corned beef was decent but the barbeque was better.  Houston had a growing Jewish community.  Ab was a member of a reform synagogue.  I was into Hendrix and pot and not necessarily in that order.  My uncle was into "The Barry Sisters" and Manachevitz wine.  The wedding was on Saturday.  There was a family dinner on Thursday night for the out of town guests.  And on Friday night the family went to synagogue to get a blessing by the rabbi before the wedding.  It was a mitzvah to bring the bride and groom up during the service and allow the community to bless their nuptials.  There we were.  Debbie and Craig, my aunt Esther, Uncle Ab the Scientist, and myself.  I was in awe of the ceiling and wall of this magnificent synagogue.  Then out from stage left to the bimah came a man in white robes, with steel grey hair slicked back and coifed, his eyes were cobalt blue.  He had the smile and stature of a used car salesman from Beverly Hills.  He was going to make you an offer you couldn't refuse.  At that time Judaism to me was "Holocaust bad…corned beef good".   So I really can't tell you much about the service in reality, but what I can tell you about was the blessing.   My heart pounded and my eyes widened as I heard the Rabbi give a blessing with a thick Texas drawl.  "Baruch Atoy adonay eluhanu melach ha o lom.  Shehekeyanu ve kemanu lahigeanu lazman ha za.  Amen."  And when the 150 Texas Jews said "Ahmen" it sounded much more like a revival meeting than any kind of religious service this corned beef Jew had ever attended.   The service continued.  I sat there stunned for ten minutes and finally I leaned into my uncle and whispered "Debbie can't get Married"
"What?"
I tried again.  "Debbie can't get married"
I had gotten through this time.
"Why not?" he whispered back.
"Because this Rabbi is obviously not Jewish!".
We laughed inappropriately in the front row of the synagogue.  We immediately quieted down with an icy glance from Auntie Esther.  It was a good moment.
Somewhere in my Uncle's DNA was his father's love for westerns.  In 1979 I got an excited call from my Uncle who told me in no uncertain terms that I had to rush out and see Gene Wilder's new movie "The Frisco Kid".  My uncle called it "a Jewish western".  I think there was part of him that wishes he could have seen it with his father.  I know that after I saw it I wished that my uncle and my grandfather were sitting next to me.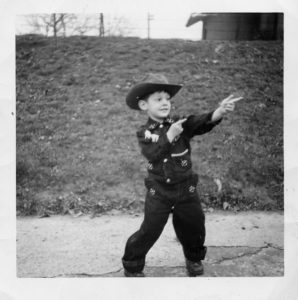 Zack Hoffman 2017