My Voice
My voice has been lost and found and lost again.  I keep looking for my voice.  Form and rhyme, substance and style.   My voice has been through many changes.   As I walk the earth I learn to speak, gather words and ideas.  Make mistakes.  Find a victory.
I'm a poet and a singer and an actor and a writer.  I have been a human doing and now I thrive to be a human being.  All parts of me have a voice.  The man, the child, the seeker and the runner.   All these parts of me have voices.
I know my voice with music.   I'm a bass baritone.   I sing other people's words.   The voice of rock and jazz and Broadway contemporary songbooks. The voice of standards and parity. The voice of Tommy James and the Shondells to Lerner and Lowe.  I love to sing.  I don't do it enough.  My friend Gary looked up the definition of "amateur".  It was a person who does something for love instead of financial gain.  Then Gary said, "I never want to lose my amateur status!"   Me too.  The search is on for my amateur status, it is something I have lost and will have to find it again.  I know it's there, all I have to do is pick it up.
I've lost my voice to emotional laryngitis.  If I could only love her enough she wouldn't leave me.  If I only gave up my voice then perhaps she wouldn't leave me.   But she had planned to leave me all along.  It was like a sucker punch to the solar plexus.  Double to over with no place to go and no place to live, I wanted to die.  There will always be some external factor that will try and silence me.  I persevere.  Fear tried to silence my voice.  The house of narcissism tried to silence my voice.   The house of sexual abuse tried to take away my voice.   They were waiting for me to stop talking but I found something else.  The voice of recovery.  The voice of reprieve.  The voice of one day at a time.  We come and we encourage. To tell our stories with our voice what it was like what happened and what we are doing now.
I remembered that feeling that feeling of no voice and I knew where to go. I had friends. I had people who were just like me.  They understood what it meant to give their voices to someone else.  Together we said our names over and over again until we heard them.  Until we owned them.  Until we celebrated them.  I remember the celebration.   I remember dancing in Glendale with a beautiful redheaded woman.   We saw our bodies through the garments wet with sweat as the B-52 screamed about the Love Shack.   We went home and whispered secrets in each other ears.  The secrets in our voice.  I can keep a secret.
Ruthie taught me to sing.  Told me, "Yes I could."  I will always be grateful.  Thanks Ruthie.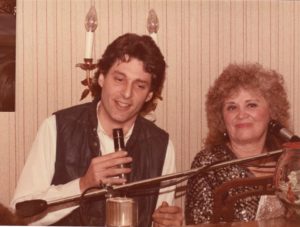 Zack Hoffman 2017