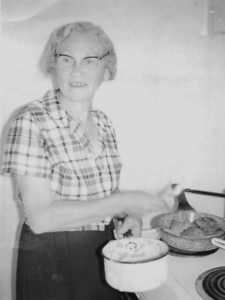 My grandmother's kitchen always felt safe.   If I was Quasimodo, I would not need to ring the bell in church steeple and yell "Sanctuary!".  Sanctuary for me was sitting in a red vinyl chair in my grandmother's kitchen on Glengary Avenue in Toronto.  My grandmother's meals were always nurturing.  When I need comfort I immediately think of my grandmother's meals.  The meal I still remember as being pure comfort was a small bowl of Lipton's chicken noodle soup, followed by some green beans, followed by potato latkes.  There is no emptiness that that meal will not fill.  Not a permanent fix but for that moment in time; I am full, I am safe, I am loved.
I lived in Los Angeles but at the end of the summer I would usually fly to Toronto and spend six weeks with my grandmother.  Usually the six weeks before school started.    On arriving at my grandmother's house there would be latkes and baked rice pudding.  All the unhappiness of the past ten months would melt away in the safety of my Grandmother's kitchen and an outpouring of food.
Sometimes after coming in from playing in the park, I would be met by a large stack of potatoes and a peeler.  My Grandmother preparing rice pudding or veranchicas, she needed help with the potatoes.  Then I was given the rectangular metal grater and was instructed to "shraboon" (the Yiddish word for grate).   I would grate the potatoes and try not to add too much of my knuckle skin or blood.
At the ripe old age of 19, standing in my grandmother's kitchen, I had a moment of clarity.  If I wanted to have latkes more than the once a year I came to Toronto I was going to have to make them for myself.   I turned to my grandmother was drinking a cup of Red Rose tea and said, "Granny can you give me the recipe for latkes?"  My grandmother looked at me and she said, "There's no recipe?  I will make them and you can watch me."  We prepared some potatoes and then she turned to me, smiled and said "Sharboon!".  There were no measuring tools, no cups or teaspoons.  Breadcrumbs were measured by the handfuls, and the same hand was used to measure out a small mounds of pepper and salt in the middle of my grandmother's hand.   She separated the egg yokes and beat the whites so when the eggs were added to the potato mixture it would make it all fluffier.  I admit in my recipe I have dropped the ball with beating the egg whites and I have improved on the grating of the potatoes by using my Cuisinart mini food processor.  I push a button that says "chop" and say "Shraboon!".
In a few days it will Passover.  I love this holiday.  The message of freedom from bondage. That we were slaves and live in Egypt (Mitzryim) which literally means "a place of stuckness".  Where do I now still live in slavery?  Am I ready to pack up and walk toward freedom?  What do I leave behind?  What do I take with me?   I will always pack a few potatoes, some eggs, onion, breadcrumbs and my Grandmother's love.
There is a Universal Spirituality  Seder with Rabbi Ted Falcon on Wednesday April 12th.  One of my favorite things to do.  There is a link in case you want to join me and we can break matzo together.
Happy Passover.