Late for the blog this week…like being late for the party.  Here is my week…
The definition of overwhelm:  to overpower in mind or feeling.
There is a great disarray of writing in my life.  Poems unfinished.  Two different long writes in different states of incompleteness.  Late for the blog post.  No relief in sight.  But I push on.  It's what we do.  I am continually grateful for Natalie Goldberg's "Writing Down the Bones".  She constantly reminds me that I am not here to be perfect.  I am here to write.  That it's okay to write the biggest pile of crap the world has ever seen and call it good (not that I want to).  All I need to do is put pen to paper.  So once again, thanks Natalie.
Yesterday I sat with a small group of brave people at the Vios Café in Ravenna and wrote for 45 minutes…then we read, our voices were heard.  It was beautiful, it was clumsy, it was poignant, it was disjointed, it was elegant but most of all it was our truth for that moment in time.  I heard a friend say this morning, "I am going to try and be where my feet are today."  Me too!
Read this book.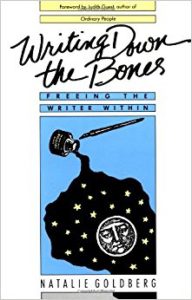 Zack Hoffman 2017