Final preparations are being made to revisit Eternia.  Emails with arrangements at airports.  Rides to the light rail in Seattle.  I've watched the clips posted on line, video of the show and the soundtrack audio.  Remembered people and places of a time long ago.  Contacted old friends for reunions in the coming days.  I remember while being on tour someone found a button that said, "Just Visiting This Planet".
We all loved it.  Soon all the cast members and crew were sporting buttons.  We were a mighty team, that was just visiting this planet called Eternia and all too soon we were sent back to our lives before we had known of He-Man She-Rah and the Masters of the Universe.
I thought that all I had left was those memories until I went to get sharpies for signing photos.  I found the tackle box that I bought as my makeup kit on the road.  Scratched, stained and battered it has survived all these thirty years.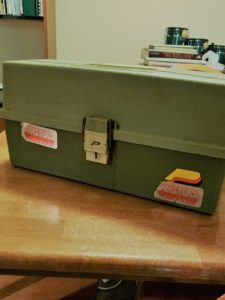 There was a time when it was filled with bottles of spirit gum, a collection of Man-at-Arms mustaches, sponges, brushes, eyebrow pencils, makeup, powder and some removal products.  Now it is a treasure chest of odds and ends from the last 30 years.   Foreign coins, a Hopalong Cassidy pen knife from my old roommate, mementos from stage shows past, lanyards from comicons and conventions and of course a collection of highlighters and sharpies.
Two stickers of logo of the show remains on the case, still shiny but worn with time.   Reminds me of me.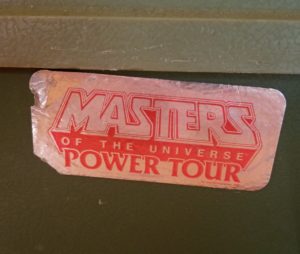 I hope you will join me on Eternia.  Come by and say hello.
Zack
Power-Con happens on Saturday September 9th & Sunday September 10th at the Torrance Marriott Redondo Beach 3635 Fashion Way Torrance, CA 90503.
Power-Con website: http://www.thepower-con.com/