Billy Joel Comes to LA
The story I am about to tell you is one of those legendary music business stories that got passed along.  I can't confirm whether this is true or false so I will have to present it as a work of fiction.  A myth, a legend, a music industry fable.  But it is a great story and worth telling.  It's about the time Billy Joel went to Los Angeles.
I love music and I love the stories about the music business.  They are colorful and filled with characters, music and money.   Most DJ's talk about music or the musician for 30 or 40 seconds at a clip on the air.  They will mention who was doing the backup vocals, about when the song was released, and maybe a quick tidbit about the performer him or herself.   Of course they never have time to tell stories.   Stories told to them by radio station owners, agents, roadies and music industry executives.
First a little history.  On the prestigious corner of Santa Monica Boulevard and Doheny Drive in Los Angeles California, Doug Weston built the first rock and roll club in Los Angeles.  It was called The Troubadour.  In truth it was called Doug Weston's Troubadour, that should give you some indication that ego is going to play a big part in the story.  If you wanted to showcase a band in Los Angeles between 1960 in 1985 the place to do it was Doug Weston's troubadour.  Record industry people, radio people, musicians, movie stars, producers, and all the rest of the movers and shakers lived moments away from Doug Weston's troubadour, because it lived east of Beverly Hills and west of Laurel Canyon.  It was a very convenient place for industry people to get to a concert or see their bands perform or throw a client party.  Doug Weston was a hard noised business man.  For the record companies and many producers who liked getting their own way Doug Weston was a giant pain in the ass.  If you're a disc jockey and you're invited to introduce a band you are told in no uncertain terms that the name of the location was to be pronounced first and it was quote unquote Doug Weston's Troubadour.  If you were a promoter and happened to piss Doug off, good luck trying to get your band on the stage, a band that you've probably invested tens of thousands of dollars to promote.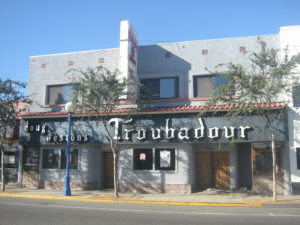 By the early eighties, the record companies were so fed up with Doug Weston and his shenanigans that they decided to build themselves their own club.  MCA and some other investors spent over $1,000,000 on the sunset strip to create a new place.  They called it the Roxy.  A beautiful state of the art venue with killer lights and sound that sat over 700 people and best of all Doug Weston and had nothing to do with it.  The first show that was there was "The Rocky Horror Show", a rocking smash success on the Sunset strip.   The Roxy even had a private bar called "On the Rox" that was host to many Hollywood Celebrities.   Most notable it was Jack Nicholson's watering hole for many many years.
Our story starts at the end of 1971 Billy Joel went to Hollywood looking for fame, fortune and a lucrative record deal.  Billy Joel had just recorded his second album "Piano Man".  He was known on the east coast but couldn't get national exposure because no one in LA knew him.  He wound up on the door of Doug Weston's Troubadour.  Doug gave him his first big gig on the West Coast.  He was the opening act for the group "Ballin Jack", which was being touted as the next Chicago.  Ballin' Jack had a big brass section and they had a minor top forty hit with a song called "Hold On".  Doug Weston started introducing Joel to a number of record producers.  Billy Joel agreed to perform a number of open act gigs for Doug Weston at the troubadour he signed a performing contract.  He recorded the album "Streetlife Serenade" which does nothing commercially and Billy Joel became more and more frustrated with the music scene in LA.
After a couple of years Billy Joel of feeling stifled by Los Angeles, Billy decides to move back to New York.  He goes home to begin again and get his creative juices flowing again.  He records the album Turnstiles that album becomes a moderate hit for him nationally, with notably the songs "Say Goodbye to Hollywood" and "New York State of Mind".  Then Joel goes on to write "The Stranger" and wins a Grammy for the song of the year "Just the Way You Are".  He follows that album with "52nd Street" and the fame train has left the station never to return.   Now Billy Joel was one of the biggest stars in music industry.  He is performing in stadiums to tens of thousands of people.
Then in 1980 Billy Joel played Los Angeles at the Forum.  Approximately 22,000 tickets were sold.  Doug Weston's attorneys contact the concert promoters and tell them that he has a contract which Billy Joel signed, in 1972, and somewhere in the fine print it promises Doug Weston 10% of all concert revenue in the city of Los Angeles and surrounding area for the next 15 years.  Weston's agents then gives the concert promoters copies of the contract.  They write Doug Weston a check for hefty sum of money.  When Billy Joel hears about this, and sees the contract, he freaks out.  He yells and screams and swears to the All Mighty that he will never, never, never, never, play the city of Los Angeles ever again.  And that's exactly what happened.  Billy Joel's next four albums all reach number one.  Five, if you include the album that followed which was Billy Joel's Greatest Hits.  Billy Joel was married to a supermodel, brought a rock and roll band to Russia for the first time, without a doubt he was one of the biggest musical stars on the planet.  Billy Joel tour the country, so if you lived in Oshkosh Wisconsin you would have probably seen Billy Joel play.  But if you lived in Beverly Hills you couldn't see a concert of Billy Joel's because he was never never never going to play LA.
Someone looked into the contract and by the end of 1989 it had expired.  A concert promoters in Los Angeles talked Billy Joel into coming and playing at the Sports Arena.  Since Billy Joel hadn't been there in close to 10 years he sold out 14 shows.  The problem with the Sports Arena was that it was also home to the NBA's Los Angeles Clippers.  So Billy Joel agreed to play from the end of March through the end of April, and he would do shows when the Clippers weren't playing.  Billy Joel would play three shows, the Clippers would have a four game home stand.  Billy Joel would play three more shows, the Clippers would play another for game home stand.  By the end of the concert dates Joel, his crew, his band, were all having the time of their lives.  All the old history was forgotten and Billy Joel had fallen back in love with the city of the angels.  It was a historic event, the most sold out dates by a performer at the Sports Arena.  I got to see him near the end of the run at the Sports Arena, Billy Joel took the stage to cheering fans and after the opening number said, "Good evening.  Welcome to the Los Angeles Sports Arena, my name is Billy Joel and we're the house band!"
Another couple of decades have passed and now Billy Joel has made an arrangement with Madison Square Gardens in New York to be their franchise musician.  He has been breaking records playing one concert a month since early in 2014.  The next concert at the Gardens is November 19th 2015.   I wonder if he still says, "We're the house band."