Let me begin by saying that 2017 was a very good year for film.  There were films that moved me, made me think and entertained me.  I am surprised how few documentaries I have seen this year.  Four love stories made this list.  In this year where there was so much hating going on I must admit stories of people struggling and succeeding with love fills me with hope.  The ensemble acting in most of the films on the list are stellar.
Have I seen everything?   Probably not, but I have seen enough, I have seen a lot.   This is my list, it's personal and I am sure that it differs from many lists that you're going to look at. So here we go in no particular order or ranking.
American Made
A great performance by Tom Cruise in a true story of a man who got caught up in patriotism, greed and the American dream.  I love the pacing, the direction and the storytelling.
Get Out
Jordan peel delivered a pitch perfect horror movie that was not only creepy and enjoyable but sparked the conversation of racism in America.
Molly's Game
Aaron Sorkin wrote the screenplay and directed a terrific American fable. Jessica Chastain was magnificent in her betrayal woman trying to do the right thing.
The Big Sick
A wonderful and original comedy.  Terrific ensemble acting.
Three Billboards Outside Ebbing Missouri
A harsh tale that was masterfully told and filmed.  Sam Rockwell knocked it out of the park.
The Foreigner
I love Jackie Chan.  I celebrate the fact that he was in a smart exciting thriller.  This movie delivered.  Welcome back Jack.
Baby Driver
Putting political correctness aside, this was one kick ass American love story.  The use of cars and music made it for me.
The Shape of Water
A beautiful fable.  Guillermo del Toro gives us a master class in film making.
Wonder Woman
Everything a superhero movie should be and more.  Gal Gadot gives us the perfect mix of innocence and toughness.
Maudie
Sally Hawkins and Ethan Hawke shine in this touching and sometimes brutal Indy.  We are all artists, we just have to find that paint brush.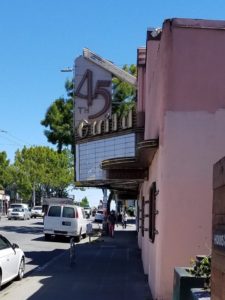 Lost the Guild 45th this year.  Making room for something new.   Memories of  groups of friends on the sidewalk talking and hugging.
Zack Hoffman 2018