Chanukah 2017
Each year I come to the candles on the menorah to bring light.  Each candle represents a different energy.  This tradition started many years ago my Rabbi, Ted Falcon was the Congregational Rabbi at Bet Alef.  He got the community together and we found energies for each of the eight candles.  Through the years I have personalized the configuration.  If you are lighting this year I hope you will find your energies that will bring light.  The energy needed most comes first because you light that candle eight times…then the rest are 7, 6, 5 and so on.
This year the word of Bessel Van der Kolk haunt me.  He said, "Love is the source of all trauma."  As I look at our world and the trauma we are facing as a planet and as it's citizens I couldn't agree more.  So LOVE will be the first candle, the candle tonight.
Here are my energies for the eight nights.
First night…         Love
Second night…  Healing
Third night…       Peace
Fourth night…    Health
Fifth night…        Forgiveness
Sixth night…       Family
Seven night …    Community
Eight night  …     Gratitude
What are yours?
Happy Chanukah with love, blessings and light.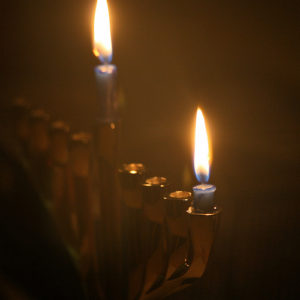 Zack Hoffman 2017