"We become better able to appreciate that our negative judgements keeps forms rigid.  Blessing allows flexibility."  from "A Journey of Awakening" by Rabbi Ted Falcon.
This week I was challenged by my emotions.  Through it all life demonstrated friendship, family and gratitude.  I was humbled and took a risk.   This week in Guevara.
The desert is a hard place to be.  Once I get there I want it to be my home.  I cannot put down a structure in the sand.  I have to be ready to put my bedroll on my back and move.  Move like the light of the sefirot move through my body.   It is never easy.  I stood with all my broken parts.  I ran for cover, for numbness, for a chance not to feel my emotions, but they stood strong, not in judgement but in unity.  The energy moves through me.
This year I prepare to be unprepared.  More things are place in the desert.  I empty my life into the sand.  People, work, possessions, relationships, memories.   Initially I wanted to be anyone else but me.   The journey to wholeness is bringing parts of myself to connect human to human.
Stacks of headshots, tapes and cassettes and videos and mp3s.  Looking at all those things, pieces, places, parts of me I toss it all into the desert and I'm afraid to walk away.  It was a long journey and now I am ready to leave it in the desert.   Lovers would come and go from my life.  We all left unfulfilled.  I look at the judgment and negativity, it brings me pain.  I look at the grace I was given many years ago and it gives me hope.
I continue to find music to accompany me on this journey.  Pieces I have heard many time, some surprising me and new music I heard only this week.  I will be ready to dance.
Playlist for the Week of Guevara
Day 8.  Chesed in Guevara.  I Got a Feeling by the Beatles
(I struggle with my feelings as the Beatles struggled when they wrote this song)
Day 9.  Guevara in Guevara.  Sweet Emotion by Aerosmith
(allowing the energies of my emotions to arrive)
Day 10. Tiferet in Guevara.  Unchain my Heart by Ray Charles
(moving through my feelings in the heart space)
Day 11. Netzach in Guevara.  Good Vibrations by The Beach Boys
(the vibrations of emotions are the focus)
Day 12.  Hod in Guevara.  Learning How to Bend by Gary Allan
(negativity keeps me rigid and blessings make me flexible)
Day 13. Yesod in Guevara.  Letting Go by Wings
(accepting the self by letting go)
Day 14. Malchut in Guevara.  I Feel the Earth Move by Carol King
(the energy of bringing heaven and earth together)
What sings to you?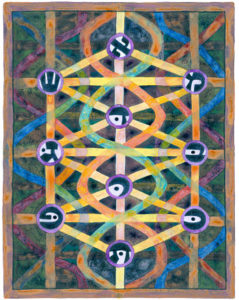 Zack Hoffman 2017