My Top Films of 2016
I thought it was a strange year at the movies.  These, in my opinion, are the gems.  I think we managed to go to 40 movies this year.  I love going to the movies with my friends.  I hope the trend continues.  I also hope they forgive me for schlepping them to Jack Reacher "Never Go Back" in IMAX and the awful "Batman vs Superman".
Here is the list in order.
"Hell or High Water"
A surprisingly good tale of brothers, Texas and the system.
"Dark Horse"
Documentary about a barmaid who had a dream and the people who believed in her.
"Rogue One"
It reminded me how much I loved the original Star Wars.  Hands down a great action movie.
"Where Do We Invade Next"
What can I say?  I love Michael Moore's take on life.  My only problem was I thought he was going to have a stroke.  "Michael! Put down the cheese".
"Manchester by the Sea"
A heart wrenching cinematic poem on unresolved grief.
"Deadpool"
This potty-mouth superhero had me in stiches from the opening credits.  I saw the movie twice and bought the dvd.  Of course it makes my list.
"La La Land"
Inventive, fresh and visually stunning.  Ryan Gosling and Emma Stone worked their butts off to make the dancing believable and the characters soulful.  They have wonderful chemistry.
"The Music of Strangers"
Yo Yo Ma's documentary was captivating, moving and opened my ears to some wonderful music and musicians.
"The Hunt for the Wilderpeople"
This funny and touching Australian film about a foster child captured my heart.  Sam Neil has never been better.
And my favorite film is:
"Sing Street"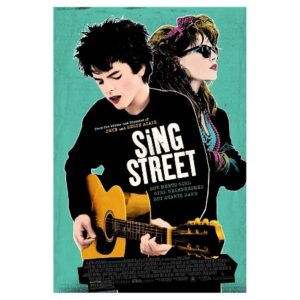 This romantic look at teenage angst in the early eighties was amazing.  Set in Ireland, it took me back to that time and recreated it with original music.  Moving and fun.