I have been absent from the blog.  Every week I think about what I am going to write about and then another week passes into emptiness.  Summer is over, the grey is back and I have to look at what I am doing.  I have written steadily for about 8 years.  Mostly timed writings at Louisa's café on Eastlake Blvd in Seattle.  We write for 45 minutes and then break into groups of three or four people and read.  We read without advice or commentary from the other writers.  We read that way so it is a safe place to write and that we have a chance to develop our own voice as a writer without criticism (inner or outer).
The other thing I need to do is change the blog post deadline day to Wednesday instead of Monday.  I have been an actor way too long and Monday is a day I don't write.   Monday is the actor's day off.  Working the weekends, Sunday is usually a double day with a matinee and an evening performance.  And though I am not currently in a show, my body clock still seems to work that way.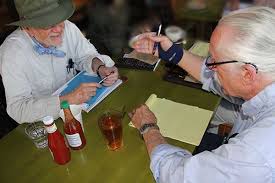 Jack Remick and Robert Ray are accomplished writers in Seattle.  They started the writer's group at Louisa's Restaurant 14 years ago.  They were inspired by the work of Natalie Goldberg who wrote "Writing Down the Bones" and "Wild Mind".  Two great books on the art of writing practice.  Bob used to go to New Mexico and take Natalie's workshops and he realized he had to create a writing space in Seattle.  It has morphed a number of times but the tables at Louisa's continue on.  Tuesday and Fridays at 2:30 PM.  A safe place to come write and develop your voice.
See you next week.